She helped me change and through hard times. Regained my confidence & strength.

"I knew I needed to change my unhealthy patterns. Three visits to the ER with cardiac symptoms scared me. I had tried for years to implement exercise into my life. I asked myself what will make this attempt at health successful. The answer was to hire Tammy Thyssen as my personal trainer. I have lost 35 pounds, lowered my cholesterol by 40, and triglycerides by 100. My blood pressure is regulated and my doctor and I are weaning me off of medications. I look forward to many active, healthy years with my children and grandchildren"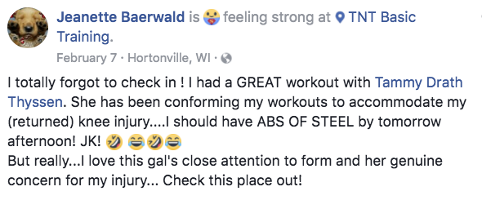 I'm feeling very proud of my progress here. Check these muscles out!

Im strong, young and full of energy.

Acutally i'm 51! Loving life!~
I was very happy with my services at TNT Basic Training. When I first came here I didn't have the intentions of working very hard. Tammy was very respectful to my needs and modified exercises to fit my ability. I grew every session and she pushed me to be successful. I began to see a difference in my energy level, attitude and my clothes. I grew excited and motivated as the time went on. She gave me my confidence to do what was necessary to reach my goals and to take it serious. My arm waves are gone and after losing all this weight the extra skin disappeared without surgery, just like she told me it would. It made a huge impact on my life. After a year with Tammy, I am now confident to workout in the gym close to my home and have been able to stay strong for myself and my family. I love seeing her smiling face and having her guidance to make me a fit person I deserve to be. She was the best medicine for me.
I have had my shares of illnesses and have been battling with R.A. since I was 22 years old. When I met Tammy I did all I could just to move around. My house chores were impossible, had a hard time getting up from the floor or chair and I had to care for 4 children. Tammy started with me very slow and gradual baby steps. She was the best physical therapist I could have found. Our workouts progressed and after 2 years I was moving and living life. 4 years later I am happy, healthy, moving, drug free, 50 pounds lighter, have muscles I never knew I had and have the energy to care for my family, help my husband and play with my kids. I can now shovel snow, stack and split wood, work on my house, volunteer at my church, and lift weights like never before. If it wasn't for Tammy's proper guidance I am not sure where I would be. I am still working out with Tammy and I will continue; she is my backbone and friend and angel. I am so thankful to have my life under control and I am not ever going back. I will recommend her to anyone who has issues or wants a change in life. She has the patience and recipe for success.
Thank you! I keep my weight off.

On March 10, 2012 I decided to invest in my future by re-focusing on my physical health. With Tammy as my guide I was able to achieve my June 2012 goal .... Ahh yes CUSA, 40th high school reunion & so on along with my old diet allowed a slow, methodical weight gain & in March 2013 I recognized that I needed additional help. Tammy seemed to sense this and introduced me to her nutritional program. Just listen to her. Keeping an honest journal is a must ... It helps U in so many ways... Believe! Let me share with you some numbers in my journal.

3/24/13 body fat 32% bio age ? 4/16/13 body fat 24% bio age 43 6/17/13 body fat 17.2% bio age 32!!! 2/21/14 body fat 19% bio age 39

I did gain a little in body fat back. I enjoyed a summer of fun & ongoing winter my weight has stayed stable. This has never occurred before and I've always gained around 15lbs every year. I look & feel Great! My physical age is 60! My new goal, is A slow & methodical trek back towards the 17.2% body fat & Bio age of 32! ... Thank You Tammy!
Came to lose weight. I lost 80#. Her guidance was a key!

Back surgery was my reason for coming. Not having to have surgery was why I stayed! Thank you for no surgery needed and teaching me how to strengthen my back and keep it healthy. I can resume yoga and zumba once again without pain. Tammys guidance was what I needed to be pain free.

Being a Hair styliest I need to be on my feet. Working out here helped keep my confidence high, and increased my energy levels during the day. Great friends come when working out here. She cares for you in and out of the gym. She listens and helps you wherever you need it.

Its fun working out here and Tammy became a great friend. I lost weight for my wedding that I didn't think was possible. Her guidance and hard work and my dedication gave me the results I wanted.
Thank you! I lost 8# my first week!

I know I have a lot to do yet, but Tammy's guidance and help has kept my head high and me accoutable. Before vacation she has taught me to be patient and what to eat while I'm gone. I lost 4 inches on my week of vacation! I'll continue to listen and I look forward to our journey.

No one said this would be easy but Tammy doesn't give up on you. She's a great listener & helper.
I'm glad I made the descision to join TNT Basic Training!

After 1 month I have good results. Just show up and Tammy will guide you!
A HUGE THANK YOU to TAMMY!

From workout out with my mac n chz addiction to my crazy work schedule! Its not too often you see people lose weight and keep it off and I kept my butt. That was my GOAL, I like my butt. I'm working on my own now and whenever I hit a plateau, I text her and she gives me more advice! She is always there for me whenever I need her.

Thank you for everything Tammy, not only for the weight loss, but helping me with a lifestyle change that works for me!
My name is Bill. I came here after my wife passed away at the age of 77. I wanted stay in my home and knew i had to do something. Tammy has been great with me. I have gained my body control, increased my balance, built muscle and have a high functioning memory. I have her to Thank. She has progressed me properly and I am glad to say I dont look my age! I can still drive, cook, haul in wood, and stay home by myself. I have gained more than just a trainer, I have gained a great friend and an awesome nurse. She is so caring.

I have fallen after year so working out and didnt break anything. She was impressed, as well as I was. I am strong and I have her to thank. My family thanks her and is glad she takes such good care of me. My family doesnt have to worry about me as much as they would if i never started this working out stuff. I call it crap, but its good crap :) I have a great sense of humor too :)